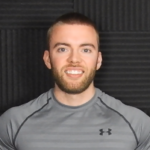 Here are the best options we have to help you build muscle: Custom Training & Nutrition Coaching, and The Pectus Warriors Foundation Program. 
The first option will work for both gym and home based workouts, the second and third options (The Spartan Program and Pectus Warriors Foundation Program) will require a gym, or at least a lot of weight and equipment if you train at home. The Spartan Program also has a free trial for the first week.
While the Pectus Warriors Program was designed specifically for people with Pectus Excavatum (sunken chest) it can work well for anybody looking to put on size and improve their posture.
Training & Nutrition Coaching

$270 – $300 per month (3 – month minimum)
The Platinum Tier Training & Nutrition Coaching is our most popular offering, bringing together everything from the Gold Tier plus a custom-built training program. Fellow home gym owner? Check out the accommodations we make for your program. We will work together to build your program around your goal, schedule, equipment access, lifestyle, and food preferences. I will be checking in with you each weekend to assess your progress and update your program. You will also have access to the two video coaching calls each week (Thursdays and Saturdays) to discuss anything you'd like with me. You will need to book a consultation if you are interested in starting this or learning more (watch the video above if you haven't already). Other custom coaching options can be found here.
(You can turn on subtitles if you aren't able to listen).
Foundation Program (Non-Surgery Route)
This program is designed to help you maximize muscle growth and improve your overall appearance with Pectus Excavatum. The foundation of this program is built on the principle of performing twice as many pulling exercises as pushing exercises each week (back vs chest). This will help to improve your posture and allow your entire body to grow without making the hole in your chest look worse, which can happen if your upper body training is not properly balanced.
Requires access to a gym or otherwise fully equipped training facility