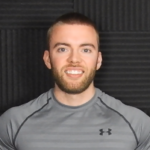 Here is the best option we have to help you increase strength. We currently don't have any automated strength programs, though we do have multiple powerlifters on the coaching roster, so our custom coaching will be your best bet, allowing us to design the perfect program for you.
Training & Nutrition Coaching

$255 – $300 per month (3 – month minimum)
The Platinum Tier Training & Nutrition Coaching is our most popular offering. We will work together to build you a custom training and nutrition program specifically for your goal, schedule, and equipment access. This also has the most hands-on attention from me, though you are welcome to work through more of it on your own if you wish. I will be checking in with you each weekend to assess your progress and update your program. You will also have access to the two video coaching calls each week (Thursdays and Saturdays) to discuss anything you'd like with me. You will need to book a consultation if you are interested in starting this or learning more (watch the video if you haven't already). Other custom coaching options can be found here.
(You can turn on subtitles if you aren't able to listen).