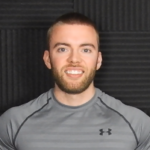 Here are the best options we have to help you build muscle. The first option will work for both gym and home workouts, the second option (The Spartan Program) will require a gym, or at least a lot of weight and equipment if you train at home. The Spartan Program also has a free trial for the first week.
Training & Nutrition Coaching

$255 – $300 per month (3 – month minimum)
The Platinum Tier Training & Nutrition Coaching is our most popular offering. We will work together to build you a custom training and nutrition program specifically for your goal, schedule, and equipment access. This also has the most hands-on attention from me, though you are welcome to work through more of it on your own if you wish. I will be checking in with you each weekend to assess your progress and update your program. You will also have access to the two video coaching calls each week (Thursdays and Saturdays) to discuss anything you'd like with me. You will need to book a consultation if you are interested in starting this or learning more (watch the video if you haven't already). Other custom coaching options can be found here.
(You can turn on subtitles if you aren't able to listen).
The Spartan Program - Mass Gain
Mass gain program built to push the limits of drug-free muscle growth
This 16-week program is designed to help you pack on up to 1 pound of mass per week using a 5 day per week training split (4 days per week also possible). Not only will each of your workouts be purpose-built for adding mass, you will have an automated nutrient calculator telling you exactly where your macros and calories need to be. These values are then adjusted weekly based on your weigh-ins. You will also be invited to 2 coaching calls with Kyle every week to discuss your progress and ensure that things run smoothly.